Jack's Peak Amateur Radio Association
We connect Cactus to Armadillo, when it all works

( Covering Most of New Mexico )
An affiliate of the Cactus
Intertie
System

The Cactus Intertie System™ is a closed, private amateur radio system consisting of a large number of remote base stations / 440 MHz repeaters interconnected with full-duplex links.



Next meeting will be held on Saturday November 18, 2017 in El Paso Tx at the K5WPH Clubhouse
An orientation class for new members will be conducted



Pictures of Meeting held on the 17th of November 2007 in Truth or Consequences, NM
The JPARA system is available for use by members of JPARA and Cactus affiliate system members only. Membership in JPARA is by recommendation of a current member. If you are interested in becoming a member, listen for someone that you are familiar with and contact them.
Rick W5CF - President - w5cf@ymail.com
Martin WB5LJO - Vice-president - wb5ljo@k5wph.org
Pete - KA7VYH - Treasurer - mhamiliton1961@gmail.com
Larry - N5BG- Secretary - lgriggs@aznex.net
A Little History
The original and main site for JPARA is Jack's Peak, located on the Continental Divide at an elevation of 7,985', midway between Lordsburg and Silver City. Jack's Peak provides coverage of most of the Southwest quadrant of New Mexico, including Interstate 10 from mile marker 350 in Arizona to mile marker 120 in New Mexico. As an affiliate of the Cactus Intertie, JPARA operates a UHF Auxiliary station with UHF point to point links to other Auxiliary stations in NM, AZ and TX. A synthesized 2 Meter remote base is also part of the JPARA operation at Jack's Peak.

JPARA also hosts three 2 Meter repeater stations offering connection to the following systems.

145.17 is a Open repeater with a full time connection to the Mega-Link which covers all of New Mexico.

145.21 is a full time connection to the EAARS Network which covers all of Central and Southeastern Arizona. This system features IRLP/ECHOnode.

145.25 is an open repeater with IRLP and EchoLink capabilities.(TEMPORARILY UNAVAILABLE).



The Club was originally issued the call of WB5QHS. Upon Milt's passing, the club wished to honor his memory. So with permission from his family, we applied for and received his call in memorial. Effective September 2016 the JPARA system will identify with N5IA.
Current Sites Operated by JPARA

Jack's Peak, MAIN SYSTEM RF HUB, Internet Linking Hub
BACKBONE SITES: Caballo Peak, Sandia Crest, Saucer Ridge, Benson Ridge, Clovis, Dark Canyon
AUXILIARY LINK SITES: Caballo, Capitan, Clovis, Commanche Peak (El Paso) Eureka Mesa, Gallinas Peak, Guthrie Peak, Little Florida Mountain, Longridge (Alamogordo), M Mountain (Socorro), Mesa Apache, Mesa Rica, Microwave Ridge, Roswell, San Antonio Mountain, Sandia Crest, Upper Pinos Alto, Ute Lake
Click on each red location on the map to view that Sites Info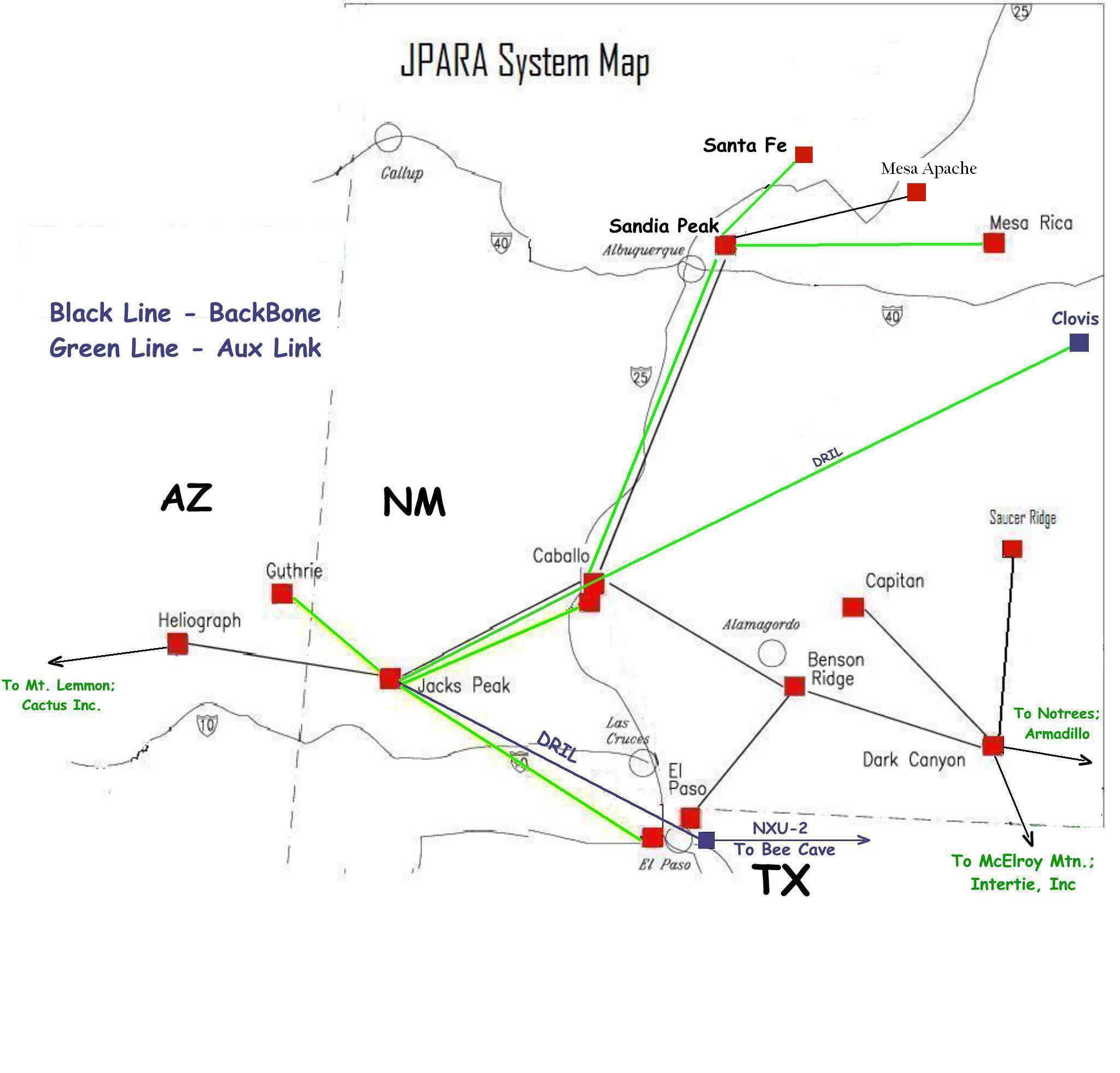 Cactus Intertie Affiliates

CARBA - Cholla Amateur Remote Base Association
MARIE - Mountaintop Amateur Remote Intertie El Paso
ARMADILLO - Armadillo Intertie, Inc.
I-Squared - Intertie, Inc
SARBA - Saguaro Amateur Remote Base Association
More to come work in progress!!!!!
Last Modified:
By: Patrick Johannik NM5C
©2006 Jacks Peak Amateur Radio Association